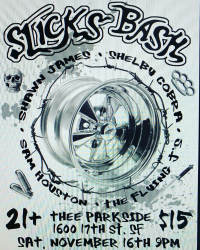 Slick's Bash:
Shawn James, Reverend Shelby Cobra, Sam Houston, The Flying J's
Time: 8:00pm Day: Saturday Ages: 21+ Ages Price: $15
This Event Has Ended
Slick's Bash:
Shawn James
Take one listen to Shawn James' music and you can hear his roots in the Mississippi delta by way of growing up on the fabled South Side of Chicago, his authentic, gutbucket blend of blues, folk, and soul music running the gamut of ecstatic joy and painful anguish.
His aching cover of Macy Gray's "I Try" for GRAMMY.com's "GRAMMY ReImagined" feature takes the original, a three-time nominee (for both Record and Song of the Year) and winner for Best Female Pop Vocal Performance at the 43rd Annual GRAMMY Awards in 2000 to the church, bringing out the wrenching anguish and yearning at its core. "The emotional heaviness of the lyrics is what drew me to it," explains James. "People can relate on some level or another regarding love, loss, addiction, and the reaction to dealing with those things."
James's reimagining included "adding a depth of sorrow and darkness not just to the lyrics, but the ambience and delivery of the performance," slowing the song down to emphasize the depth of feeling as he tries to say goodbye.
The singer-songwriter has previously released four full-length albums, including his debut, Shadows, a live record (Live at the Heartbreak House), a covers EP (The Madrid Sessions) and the original songs of his most recent effort, On the Shoulders of Giants.  Hew newest offering, The Dark & The Light, was released on indie label Parts + Labor Records and produced and recorded by Jimmy Messer (AWOLNation, Kelly Clarkson, Kygo, The White Buffalo).
James is a road dog, the hellhounds at his heels, performing more than 200 dates a year. His songs have been featured on HBO, CBS and Sony Playstation's The Last of Us 2.  His track, "Through the Valley," topped Spotify's Global Viral Charts, while generating more than 60 million streams combined on Spotify, Apple Music and YouTube.
Reverend Shelby Cobra
every other show is a great one...
facebook.com/pg/ShelbyCobraAndTheMustangs
Sam Houston
The Flying J's
Rock and roll from the heart of the west: Fresno, California
The Seismics
Classic 60's surf rock sounds based in San Francisco, CA. The Seismics are Jon, Jack, Mike, and Lobo.