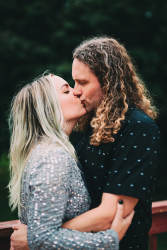 Noise Pop Presents:
*** CANCELED ***
Slingshot Dakota, Pity Party, Strangers
Time: 8:00pm Day: Saturday Ages: 21+ Ages Price: $10
This Event Has Ended
Noise Pop Presents:
Slingshot Dakota 
With the energy and sound of a full four-piece band, Carly Comando and Tom Patterson –– the husband and wife team that make up Bethlehem, Pennsylvania's Slingshot Dakota –– craft unapologetic, heavy pop tracks that showcase their years of experience and punk influences. Although Carly is on the keyboard and Tom is behind the beats, to define the band as a keys-and-drums duo isn't quite right. Carly writes songs as if there were a guitar and a bass present and translates how to mimic the sounds on the keys. Combining a robust low-end with sweet and delicate melodies, Carly makes full use of her heavily effected keyboard while also providing vocals that are, in turn, sweet and polished or earnest and raw. Tom fills out the sonic middle ground with his drum kit, knowing just when to hold back, and when to let loose and wail away. It's a little bit pop; it's a little bit punk; but it's 100% fun.
Pity Party is an emo pop-punk band from Oakland, CA. Characterized by their frenzied, unforgettable live shows and their fierce dedication to DIY and mental health advocacy, Pity Party have been spreading their wild, barely-holding-it-together energy across the US since 2014.
Strangers is Kris Moya's(Jabber, Long Knives, etc.) solo project. Being responsible for all the instruments and vocals, save for some of the backing vocals, Good Enough is a record that speaks directly to their influences. I feel like that is both appealing and intimidating for any musician. Your project will sink or swim based on your vision and voice. The proverbial buck stops with you. Luckily, this record swims.
One of my favorite things about this record is that it taps into a different part of the greater punk genre than Long Knives does. That band was firmly on the emo side of the fence, this project is definitely more on the indie rock side of things. Good Enough would sound right at home on a label like Salinas or Don Giovanni. This is the kind of music that will always appeal to me. To be honest, if you like that kind of stuff, I don't know how you couldn't find something to like on this record. You want a hooky pop influenced song? "Strangers" and "30 Day Free Trial" are there for you. An energetic, uptempo jam? "Like Fun Gay, Not Angry Gay" has got you covered. Shit, "If The Apocalypse Comes, Beep Me" closes the record in a way that does both.
My favorite kind of song is an undercover sad one. I think Good Enough is a record that speaks to that. Even an upbeat sounding song can have a bit of bummer introspection. "Like Fun Gay, Not Angry Gay" speaks to that. It's got a triumphant sound to it, but lyrics like "When my body no longer feels unworthy of taking up space // When my brain is no longer filled with shame" speak to the struggle that has being overcome. See also: "If I'm busy then that's why I'm still around // I keep myself busy, but it brings me down // I'm out of control when I'm alone" in the record closer. To me, that's that kind of thing that makes the record worth listening to. Anyone can make an indie punk song. Actually using the genre to say something is when songs become great.
Strangers is a project that just appeals to me in almost every way. I hate RIYL statements, but this record would certainly appeal to fans of stuff like All Dogs or Swearin'. Ok?" - Joe Kelly/Team Reasonable.