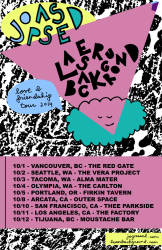 Noise Pop Presents:
Jo Passed, Laser Background, Club Night
Time: 9:00pm Day: Thursday Ages: 21+ Ages Price: $10
This Event Has Ended
Noise Pop Presents: 
Jo Passed
The nicest thing anyone has ever – ever – said to Jo Hirabayashi, frontman of Jo Passed, is that his band's debut album sounds like "fucked-up Beatles". Titled Their Prime, the LP does sound like fucked-up Beatles. It sounds like, somewhere across an '80s universe, Lennon and McCartney discovered Can and Neu!, and maybe a little Sonic Youth and XTC along the way. Opening with "Left," it demonstrates that timeless knack for dreamy melodies – chord progressions that sound like they were created in a land far far away. Lyrically, however, it's imbued with a philosophical longing for answers to questions that have resurfaced for the first time since the explosion of counterculture in the late 1960s and early 1970s.
Laser Background 
For the better part of the past decade, Andy Molholt has been creating music as Laser Background. With each release, Molholt has come closer and closer to a unified vision, a musical explanation of how he sees the world. With his new LP, he has come closer than ever before, and titled the result Dark Nuclear Bogs. Originally conceptualized while thinking up anagrams of Laser Background in order to play a secret show, Dark Nuclear Bogs is the classic 'self-titled LP as mission statement' flipped on its head, seen from the unique, kaleidoscopic perspective that Laser Background is known for.

Dark Nuclear Bogs was recorded in a friend's house on a man-made reservoir north of Atlanta with Carlos Hernandez and Julian Fader of Ava Luna. The houses' décor, unchanged since the previous tenant left in the 1970s, provided a perfect environment for the trio to cut the songs live to tape, and the relative seclusion of the lake allowed them to record whenever inspiration struck. As a result, different songs feel attached to different times of day. The opening track "Mostly Water" (written during a period of self-induced sleep deprivation) sounds like an unwelcome, hung-over morning where wanderlust overtakes common sense, and the raucous "Slubberdeguillion" (which takes its name from an Olde English word meaning 'worthless person') acts as the sloppy, self-destructive all-nighter that precedes it. In this song, Molholt pitches his vocals up two octaves and wonders out loud. "Why even bother to take a shower if you're going to get dirty?"
Club Night is drummer Josiah Majetich, bassist Devin Trainer, guitarist Ian Tatum, and guitarist/vocalist Josh Bertram. They formed in Oakland in 2016 and first gained attention with the release of their EP Hell Ya, a five-track array of rainbow-colored songs that evoked the mad eccentricity and creativity of early-aught indie bands. The members are all veterans of the Oakland indie rock scene, each bringing a distinct flavor to the group.
This project is a direct reflection of the group's disparate influences coming together in one space. Club Night perfect this experimentation on their beguiling debut album, What Life. The record boldly breathes compassion into the world through its fearless and profoundly unique musical offerings. The songs are jagged compendiums of contrasting moments—collections of sounds that refract and bend off each other before melding into one. Every song on What Life feels like a labyrinthine creation, running fearlessly from one sound to next, starting at times as downtempo bar ballads before bending into runaway math rock songs and culminating in anthemic blends of white noise, bellowing drums and triumphant vocals.
Bertram and Tatum's guitars wander, but not aimlessly—they amble together and sing in unison until they find that special moment when their output meshes succinctly with the crashing rhythm section of Trainer and Majetich and an otherworldly collection of synths and samples from Rebecca Lukens, creating a murmuring wall of dissonant sound. The myriad moving parts on the album reflect a selfless ethos, focused on finding a complementary set of dynamics for Club Night. While Bertram brings the rough structures of the songs into the studio via a guitar riff, each member of the band dissects the tune and contributes their own distinct flourishes while constructing the architecture of each composition.
Rising above the fray of the groups' collective noise—but just barely—is Bertram's inimitable voice. His high-ranging register climbs atop the din of noise surrounding the band, but he is not at war with the sonic landscape. Instead, the vast layers of sounds help propel his voice upwards, sharing his message with cathartic delivery. His lyrics are poetic and expressive, inspired and emotional, without delving into the realms of literalism.
Along with preaching for self-awareness and compassion, Bertram also illustrates messages of guilt and sadness. He conveys the fact that he may have escaped the early tormentors of his youth, but for countless others across the country, daily life is still met with hateful ignorance. Worse, those same tormentors are now emboldened by the xenophobic, racist systems in power. Within "Cherry," a tense, post-punk tune, Bertram sings about growing up in an area relentlessly unaccepting of any differences that fall outside of their own perceived realities— "I carefully kept this pristine terror from my old life on the rural atlas where I was born."
Throughout the album a theme of hope unfolds as the realization that once having found an honest sense of belonging in your community, you can finally be able to thrive without fear of shame. What Life pries into the fragile psyche of outsiders, but it's not an ode to defeatism. Existing is a struggle and Club Night will keep fighting—not with fists but with the connective power of empathy. (bio by Will Reisman)