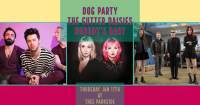 Dog Party, The Gutter Daisies, Nobody's Baby
Time: 9:00pm Day: Thursday Ages: 21+ Ages Price: $8
This Event Has Ended
Dog Party
Catchy melodies, tight harmonies, fuzz pedals and big drums; what more could you possibly want
in a rock and roll band? Formed in 2007 by sisters Gwennie and Lucy Giles, the duo draws influence from the classic sounds of the Ramones as well as contemporaries Ty Segall to synthesize their own unique style. Careful listeners will also notice a nod to bands like Cub and Tiger Trap, the former of Sacramento, CA lineage as well.
Adding a recent tour with Swimmers to their tour credentials that already include tour dates in Germany, Switzerland, Austria, Italy, France, and across the Unites States. Dog Party will be hitting the road all summer, including two Southern California Burger Records showcases. 
Both play a multitude of instruments, but their live show consists of Lucy on drums and Gwendolyn on guitar with both sisters sharing lead vocal duties. The Dog Party live show owes a debt of influence to old Bikini Kill footage they both have absorbed, and also Sex Bob-omb — that's right, the fictional band from the cult comic book series Scott Pilgrim vs. the World. They have an uncanny ability to incite nostalgic awe in older audience members, while fueling the fire of frenzied dancing in the younger ones.
The Gutter Daisies 
It's 2017. Stars rise quicker than a cult welcoming their demigod into the morning light. They then fall just as quickly, the inebriated public eye forgetting they ever existed, having moved onto the next trend of obsession. The sky is the limit these days. Beyond it, an electric fence to keep it's minions in line. Suits holding their whips, clamping ball and chain after ball and chain to every beautiful face, hoping they can genetically modify them to become the next million dollar madonna. Art is a thing of the past, and selfish-indulgent passion has become the death of the future. 

Sometimes it's ok to yell "fuck it" and spit into the wind. Be who you are, for you. There is nothing to prove and so much to express. It's so easy to get tied up into everyone's glamorous social media facade. Everyone has moments of misery. If there was no dark, there would be no light. Our new expectations have lead us to early resignations. Don't wake up one day realizing you've been asleep for years, simply because you've been living for everyone else. Go back to the start, and radiate as if it was the first time you ever fell in love...
soundcloud.com/thegutterdaisies
Nobody's Baby 
The squealing tires, the kick, kick kick, snare, young love, and blood curdling scream. All ingredients to an American classic, the Teenage Death Song. Nobody's Baby formed around the idea of capturing the raw honesty buried in early 60's cheese schlock. Think the Shangri-las on a Saturday speed binge and Del Shannon still drunk on a Monday morning. Buddy Holly post-plane crash. The band writes a love letter to all this. They spill their heart on the page, but the letter is written with vintage fuzz pedals, trashcan reverb, and cave dweller drums. The end result is a garage doo-wop funeral parade, and everyone's invited.
facebook.com/pg/NOBODYSBABY666