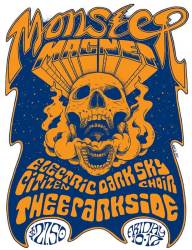 Monster Magnet, Electric Citizen, Dark Sky Choir
***SOLD OUT***
Time: 9:00pm Day: Friday Ages: 21+ Ages Price: $27.50
This Event Has Ended
Monster Magnet 
Retro-rock visionaries Monster Magnet spent much of the 1990s struggling against the prejudices imposed upon image and sound by alternative rock fashion nazis. In fact, it wasn't until that movement's late-'90s decline that the band's dogged persistence finally paid off, when their fourth album, Powertrip, catapulted to gold sales status on the strength of its massive hard rock hit, "Space Lord." In the meantime, Monster Magnet had managed to become one of the most successful and influential bands associated with the so-called underground "stoner rock" scene. And yet, their influences span much further than that scene's foundations in '70s hard rock and metal, delving into space rock, psychedelia, and beyond.
Electric Citizen
Based in Cincinnati and signed to California based heavyweight, RidingEasy Records, Electric Citizen has spent the last several years touring the world headlining and opening for acts like King Diamond, Pentagram, The Crazy World of Arthur Brown, Fu Manchu, Budos Band, Charles Bradley, Joan Jett, Wolfmother and playing renowned festivals like Psycho Las Vegas, Psycho California and Desert Fest Belgium.

After bursting to the American heavy rock forefront with their 2014 debut album, Sateen, Electric Citizen released their second album, Higher Time in 2016; a breakout moment for the band as a whole and for vocalist Laura Dolan. Like its predecessor, Higher Time was recorded at The Diamonds studio in Cincinnati by Brian Olive (The Greenhornes, Dan Auerbach, Dr. John, etc.), and in search of an even more expansive feel, Laura, Ross and Brian traveled to mix alongside Black Keys engineer Collin Dupuis at Easy Eye in Nashville, TN.

Electric Citizen branch out with stage-born assurance across a collection of definitive rock 'n' roll. It is a bold, complete sound that sacrifices nothing of the band's on-stage energy and clearly demonstrates that while their progression has been quick, it's been hard won the traditional way: They worked their collective ass off. Electric Citizen brazenly refuse to be pigeonholed and craft a style that, like every stage they step onto, is completely their own. Look for them on the road in North America and Europe throughout 2018 and beyond.
Dark Sky Choir is an original hard rock/metal band from NJ. Formed in 2016, the band originally consisted of four veterans of the local music scene, playing the classic metal music they all grew up listening to. As their local popularity increased as a tribute band, it was inevitable that they soon began writing their own music.