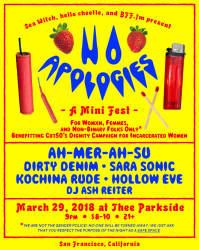 Sea Witch Presents, hello cheetle, BFF.FM Present:
No Apologies Fest: For Womxn, Femmes, and Non-Binary Folks
w/ performances by AH MER AH SU, Dirty Denim, Sara Sonic (of Tambo Rays), Kochina Rude, Hollow Eve, DJ Ash Reiter, plus Special Guests TBA
We are not the gender police! No one will be turned away, we just ask that you respect the purpose of the night as a safe space.
Time: 9:00pm Day: Thursday Ages: 21+ Ages Price: $8
This Event Has Ended
No Apologies Fest: For Womxn, Femmes, and Non-Binary Folks
Star Amerasu (AH-MER-AH-SU) started singing at a young age. She is a multi-instrumentalist, singer, dancer, actor. 
Her work spans many genres. She has performed all over the world. 
She is here to change the world through her art.
Dirty Denim
Combining obscure sixties garage and surf guitar with 50's doo-wop, Dirty Denim brings fetishism to the impetus of sleazy rock 'n roll.

Schizophrenic front-woman & guitarist, Katie Rose (of Bomp! Records' les Hell on Heels), moved to San Francisco from Portland, OR with bassist, Laura Svec, in 2014. That's where they met and fell in love with drummer, Raquel Reyes (of the Peppermints).

Dirty Denim quickly left their mark on the Bay Area music scene and began to take the west coast by storm. Now, they headline or support large acts like: The Dead Boys (yes, the 1979 legends), Richie Ramone, Mike Watt (Minutemen), D-Generation, The Coathangers, La Luz, Shannon & the Clams, etc.

They are unfazed by the oddity of their rapid growing success — being that they haven't released even ONE full-length album yet! 

Like their song, "Hit the Wall" says, maybe they just wanna "see how far they can take it." ... maybe WE are the butt of their jokes... maybe WE are suckers... and they are only teasing us as the anticipation builds for their debut album said to drop Summer 2018. 

...Maybe we can survive just a little longer on the breadcrumbs they leave us as fans... Maybe...

Pick up their self-released "Dirty Demo" at their next show or order online to get a taste.
Sara Sonic (of Tambo Rays)
Kochina Rude
Hollow Eve
DJ Ash Reiter
plus Special Guests TBA