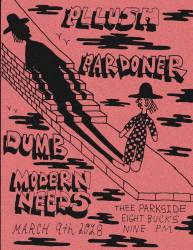 Pllush, Pardoner, Dumb, Modern Needs
Time: 9:00pm Day: Friday Ages: 21+ Ages Price: $8
This Event Has Ended
An exciting new sound grips the Bay Area's music scene as Plush pushes the bounds of genre and style. Plush is a four-piece originating from San Francisco, with members of local SF legends The She's. While their debut LP, Pine, is a beautiful combination of surf-rock and shoegaze, their auspicious new release, Please, encapsulates a completely different tone, both sonically and lyrically.
Lush and warm, it has cinematic quality which suggests, somehow, that each track takes place in a different climate. With the angular and ethereal falsetto of Karli Helm contrasted by the hypnotic and unwavering voice of Eva Treadway, Please echoes a melancholic honesty that captures the album's heart-breaking, yet insightful versatility, deriving from both Wowee Zowee era Pavement and Painful era Yo La Tengo.
Sonically, the album embraces twinkling guitar tones that are blitzed with spurts of grainy fuzz, flaringly precise and graceful drums, as well as complimentary bass riffs that swirl and swoon each track, working in unison to pin-point these heart-wrenching emotions with clarity and catharsis. After sharing the stage with bands such as Ceremony, All Dogs, Ducktails, Sales and Creative Adult, they have proven their ability to blend seamlessly into wherever they land.