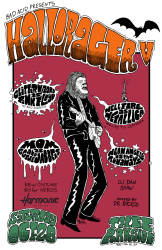 Bad Acid Presents:
Hallorager V
w/ Glitter Wizard (Pink Floyd), Hell Fire as "No Life 'til Leather" (Metallica), Neon Angels (The Runaways), MOM & The Jabbers (GG & The Jabbers)
DJ Dan Shaw!! Hosted by Dr. Rockso, $1 off Harmonic Pints all night long!
Time: 9:00pm Day: Saturday Ages: 21+ Ages Price: $10
This Event Has Ended
Bad Acid Presents: Hallorager V
In the 5th installment of we are proud to present:
Glitter Wizard as Pink Floyd
Stoner glam quintet, Glitter Wizard will be playing select cuts from the early years of Pink Floyd. From the very beginning up to "Meddle". 
Hell Fire as No Life 'Til Leather (Metallica)

SF's premier metal rippers will be playing early Metallica from the "Kill 'em All" era. None of that borning new crap that nobody likes. This will be the real deal. 
Neon Angels as The Runaways
Formed as a one-off Runaways cover band, but for some reason people won't stop asking them to play shows! Five friends, but members of at least 20 local bands (most of them Dylan's).
Bands include: Humid, The Lovemakers, Part/Human, Mane, Sam Flax, Glass, Friendless Summer, Kokomo Hum this all girl supergroup will be covering The Runaways the way they'd like to hear it. 
MOM & The Jabbers as GG & The Jabbers
Everyone's favorite Burger Queen of steamy piles of shit will be embodying another shit kicker, along with some knife wielding run amockers from some of SF's best punk acts. 
Plus DJs Shannon & Dan Shaw on the wheels of steel! 

Games, Prizes, Debauchery, Food, Horror Movies, Friendly Murder! 
Sponsored by Harmonic Brewing, $1 off Harmonic Pints all night long!!