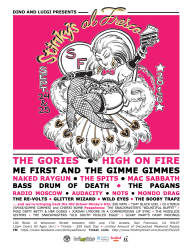 Dino & Luigi Presents:
Stinky's al Fresco: Day 2
High on Fire, Naked Raygun, Mac Sabbath, Radio Moscow, Mondo Drag, Glitter Wizard, The Re-Volts, Wild Eyes
Time: 12:00pm Day: Sunday Ages: Ages 5+ Price: $50
This Event Has Ended
High on Fire was founded in 1998 by former Sleep guitarist Matt Pike, drummer Des Kensel, and bassist George Rice (from Dear Deceased, who originally auditioned to be the band's vocalist). The band's first full-length album The Art of Self Defense was released on 12th Records, and released later on Man's Ruin Records. (The album would later be re-released by Tee Pee Records, with two bonus tracks, as Man's Ruin Records had become defunct.)
In 2001, High on Fire signed a record deal with Relapse Records and recorded the album Surrounded by Thieves. The album was released on May 28, 2002. After the tours promoting Surrounded by Thieves, bassist George Rice left the band and was replaced by ex-Melvins/Thrones bassist Joe Preston.
The band's next album, 2005's Blessed Black Wings, was largely written by Pike and Kensel before the recording of the album took place. The album was produced by Steve Albini, and was released on February 1, 2005. A music video was produced for the song "Devilution." While touring with Goatwhore and Watch Them Die to promote Blessed Black Wings, Joe Preston left the band for undisclosed reasons, and was temporarily replaced by Zeke bassist Jeff Matz. Matz finished the tour with High on Fire and became a full-time member during the recording of Death Is This Communion. Death Is This Communion was released on September 18, 2007 (September 10, in Europe).
After Death is This Communion was released, High on Fire played a small string of Northwest shows to promote it. The band did a headline tour of North America in September and October 2007, with support from the Japanese post-rock band Mono, along with Panthers and Coliseum. High on Fire also played on 2008's Gigantour, which was followed by a North American tour with the bands Opeth, Baroness, and Nachtmystium.

On December 17, 2008, High on Fire signed a recording deal with Koch Records. On August 1, 2009, it was announced that a new album would be recorded with producer Greg Fidelman.[8] Later that month, following the news of the new album, High on Fire announced a tour with Mastodon, Dethklok, and Converge. The tour spanned from October 2 to November 21.

In August 2009, the band went into post-production of the follow-up to Death Is This Communion at The Pass Studios in Los Angeles. The album artwork for the new album was released on January 7, 2010. On January 15, following the release of the album artwork, the song Frost Hammer was posted on the band's Myspacepage, and a video for the song was released on March 16, 2010.High on Fire's fifth album Snakes for the Divine was formally released on February 23, 2010.
In March 2010, the band announced a headlining U.S. tour to promote the album; supporting bands for the tour include Priestess, Black Cobra, and Bison B.C.. On April 6, 2010, the band announced they would be opening for Metallica for eight European shows.

In 2010, the band was confirmed as being part of the soundtrack for Namco Bandai Games' 2010 remake of Splatterhouse. On April 3, 2012, High on Fire released their sixth studio album, De Vermis Mysteriis. Metalsucks.net reviews editor Sammy O'Hagar argued that the band has "rebounded in epic fashion" since their last album, and that "Even for a band as esteemed as High on Fire, [De Vermis Mysteriis] is a career high point."

High on Fire was scheduled to play the 2012 Mayhem Festival but dropped off the tour due to Matt Pike's health. Matt Pike returned to the band and they once again began touring in November 2012.
High on Fire's album Luminiferous became available in full for free streaming as a preview with NPR music on June 7, 2015, with the official release of the album nine days later on June 16. Luminiferous is the second High on Fire album in a row produced by Converge guitarist Kurt Ballou. NPR reviewer Adrien Begrand credits Kurt Ballou with "helping rejuvenate the band's sound" on their previous album, and praises the album as evidence of High on Fire's consistency, fueled by the "right combination of adherence to formula and subtle experimentation." Dan Epstein, writing for Rolling Stone, concurs that "one could definitely make the case that [Luminiferous] is High on Fire's finest album yet."

Naked Raygun
Along with Husker Du, Naked Raygun was one of the first U.S. post-punk bands of the early '80s that merged melodic influences with punk/hardcore. Formed during 1981 in Chicago, IL (and largely influenced by such art-punkers as Wire and Gang of Four), the group contained several different members during its ten-year career, including leaders Jeff Pezzati (vocals), Marko Pezzati (bass), Eric Spicer (drums), and, early on, future Big Black member Santiago Durango (guitar). 

Naked Raygun made it clear early on that they were unafraid to speak their minds (especially when it came to their personal political views, which were often from a strong and "macho" point of view), as proven by such confrontational compositions as "Tojo" and "Potential Rapist" off their 1983 debut Basement Screams. 1985's Throb Throb saw the group hone their sound even further (adding more melody, in addition to a more meatier and metallic guitar sound), as evidenced by the album's single "Surf Combat." By this time, Naked Raygun had carved a niche for themselves with the college rock crowd and began spawning imitators back in their hometown of Chicago. 

Undeterred, the group stuck to their guns and refused to follow any set musical formula while releasing 1986's All Rise, 1988's Jettison, and 1989's Understand?, before Haggerty left the group. Naked Raygun managed to soldier on for one more release, 1990's Raygun...Naked Raygun, before calling it quits a year later. After the group's split, Haggerty reappeared as a member of Pegboy (which also included former members of Bloodsport, the Effigies, and Bhopal Stiffs) and issued three releases during the '90s, while Pezzati appeared to have disappeared from the planet, before suddenly popping up again in the late '90s with a punk trio called The Bomb. 

Because of public demand for Naked Raygun material, 1999 saw the indie label Touch And Go/Quarterstick reissue all of Naked Raygun's albums with bonus tracks, as well as the compilation Naked Raygun: Huge Bigness -- Selected Tracks From the Collected Works, 1980-1992. 

In addition, Chicago successful mainstream acts such as Alkaline Trio, Mest, Lucky Boys Confusion, Rise Against and Fall Out Boy have all cited Naked Raygun as one of their primary influences. All of these bands have paid homage, alongside critics and fans alike, to what people consider to be the most important band to come out of Chicago in the 1980s and 1990s. 

In 2006, Naked Raygun reformed to headline Chicago's annual punk festival, Riot Fest. After the success of the show, which saw a sell-out crowd of over 4,000 people, Naked Raygun decided to carry on with new releases, a Blue-Ray HD DVD documentary of their Riot Fest show and several one-off shows in different markets across the United States. Although what the future holds for the beloved sons of Chicago remains shrouded with some mystery, one thing is for certain: Naked Raygun is back and the U.S. punk scene could not be more appreciative. 

Written, in part, by Greg Prato & Steve Huey, All Music Guide Written by Greg Prato 
Mac Sabbath
It was the Year of Our Lord 2013, and I was devouring a cheeseburger in a Chatsworth, California, franchise of a certain multinational fast food conglomerate which shall remain nameless. Out of the corner of my eye, I noticed a crazed looking clown walking in my direction. Wearing a costume of bright yellow and red, and giant shiny shoes, he seemingly fit into the surroundings, but it didn't take long to see that something wasn't quite right. His costume was trailed by long, tattered, hippie fringe that was dirty from scraping the floor (and most likely the alley behind the restaurant), and more alarmingly his face was caked in ghostly make up that looked like it had been smeared on with a putty knife. My first thought was that he looked like Skeletor as a member of Uriah Heap. Taking a seat in my booth, he informed me that his name was Ronald Osborne, and he that he was familiar with my oddity rock band Rosemary's Billygoat. He was a fan of the band, and said he had a concept I might appreciate, something he termed "drive-thru metal." Some of the delinquent kids who worked for the franchise had been allowing him and a cast of characters named Slayer Mac Cheeze, Grimalice, and the Cat Burglar, to perform secret rock shows in the bunker-like basements of the local restaurants. But the time had come, he said, to bring drive-thru metal up from the "underground," and he asked if I would consider becoming the manager of his band. I asked him what the act was called, and proclaimed with pride, "MAC SABBATH!"
I barely had time to gather up what was left of my faux food before the restaurant's manager, apparently annoyed both by the disheveled clown and the content of our conversation, came over and forcefully assisted us out onto the street. As we hit the sidewalk, I looked over at Ronald, watched him brush the dust of cold fries, sodium chloride and GMO remnants of my UN happy meal from his grease-smeared clown suit, and couldn't help but think there was something special, perhaps even great, about the man. He invited me to one of these secret shows, and two nights later I was sitting in the basement of a fast food restaurant in the San Fernando Valley, my eyes and taste buds tingling to a new sensation. Drive-thru metal was real, and talk about a feast for the senses! Black Sabbath's music, hilarious fast food lyrics, smoldering clown heads with laser eyes, a giant purple gumdrop bass player, and Tony Iommi with a giant cheeseburger head. I was confused, amazed, and dare I say it, can't ever remember feeling so………happy! I told Ronald that yes, I would love to manage his band. It wasn't going to be easy—nothing ever is with a disturbed clown and a band of Monsanto mutants who refuse to reveal their identities because they think they came here from a wormhole in space time direct from 1970. But whoever they are and however they got here, they're here now and they're ready, so pull up to the window and check your order, because I am proud to present the world's newest concept in entertainment, the culinary disgrace that is MAC SABBATH!
Radio Moscow is a hard rocking psych power trio. They have five albums on Alive Records and have toured USA, Europe, So. America and are heading your way.
Mondo Drag
The creatures known as Mondo Drag hailed from deep along the banks of the wild Mississippi River where they created ominous, spiritual, savage psychedelic revival sounds. Summoned to the edge of the Earth, they journeyed west, collecting new sounds reminiscent of desert scapes, acid dreams, all-night prog vinyl spinning and a dark galaxy of protometal swirls,  exalting the band unto new, wickedly brilliant horizons. Now settled in the deep realms of Oakland, the ensemble continues to create cosmically proportioned, churning jams evocative of a rainbow of obvious inspirations but also numinous new sounds emerging from the organ - heavy riffs. If you love Blue Cheer, Black Sabbath, Can, Atomic Rooster, Hawkwind, Budgie, Uriah Heep, Deep Purple, Italian prog, Krautrock in general, and heavy space-outs....get into Mondo Drag. They'll knock your socks off, let your hair down and take you on a mind's eye exploration you won't soon forget. Though they exude love for the spiraling tapestry of heavy psychedelia of the past, they are on a rock and roll mission all their own: an unearthed prog band, futuristic in their time capsule, rocketing forward through the depths, gathering the sounds of space itself. 
Glitter Wizard
Lipstick stains on the rim of a bong. 
The Re-Volts
Members of The Re-Volts have played in Me First and the Gimme Gimmes, Swingin' Utters, One Man Army, Dead To Me, Filthy Thieving Bastards, The Sore Thumbs, The Hooks, Uke-Hunt, Primitive Hearts and toyGuitar.
Wild Eyes
Disaster! Blue Cheer kidnaps Tina Turner and ties her to the tracks of the Grand Funk Railroad. The Wild Eyes express bears down from San Francisco, wheels churning. In the tender, drummer Ben Richardson and bassist Carson Binks (Saviours) fuel the engine with syncopated clatter and incendiary rumble. Whirling riffs and searing, psychedelic solos by guitarist Chris Corona (Floating Goat, Hazzard's Cure) soar from the smokestack. Just before the crash, a soulful siren: singer Janiece Gonzalez, whose warning comes too late. Carnage! Then, from the wreckage – twisted metal, pulverized rock, burning soul – comes "Get Into It!" a new album on Who Can You Trust? records. Celebration! The Wild Eyes express thunders on!