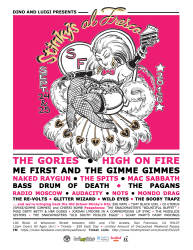 Dino & Luigi Presents:
Stinky's al Fresco: Day 1
The Gories, Me First & The Gimme Gimmes, The Spits, Bass Drum of Death, The Pagans, NOTS, Audacity, The Booby Trapz more to be announced soon!
*Limited Amout of Weekend Passes*
Time: 12:00pm Day: Saturday Ages: Ages 5+ Price: $50 - $85
This Event Has Ended
The Gories
"The best garage band in America since the '60s. Very primitive…they made people with Les Pauls and Marshall amps look like idiots." - Jack White
The Gories began in the cultural vacuum of Detroit in 1986. With humble beginnings at a community concert series through a tumultuous end on their 1992 European tour, this is a band whose influence has far outstretched the ground they covered. Rooted in the primal, primitive underpinnings of 50's rhythm and blues and unhinged 60s garage punk, the sound they came to was wholly their own. While band members Mick Collins and Dan Kroha would go on to wider recognition in the Dirtbombs and Demolition Dolls Rods respectively, the Gories should be viewed in the same influential context as the Velvet Underground and the Cramps. While they may have barely sold any records, the folks that saw and heard these bands were inspired to create. It's high time the Gories get their due.
Me First & The Gimme Gimmes 
In that mythical era known as the '90s, five brave young men emerged from the legendary halls of some of the mightiest bands on Fat Wreck Chords with a single mission: make all the rest of these dildo punk bands covering popular songs obsolete. They crowned themselves Me First and the Gimme Gimmes and the world rejoiced. Now, seven records, scores of singles and nearly a thousand years later, having tackled every genre under the sun, the bold young knaves known colloquially as the Gimmes have ridden their success hard, and decayed into desiccated, old divas. Yet, the diva, she is immortal. And thus, imbued with the old-world, Mystic Pizza-esque swagger of Cher, the modern pop-art sensibility of Lady Gaga and the enthusiasm-for-drug-consumption of Whitney Houston, Me First and the Gimme Gimmes have returned from their beauty rest, busting out of their sequined gowns, and throwing vases at their assistants in order to present you with their latest opus, entitled Are We Not Men? We Are Diva!, slated to be released on May 13, 2014 on none other than Fat Wreck Chords. And you'd best believe, whether because of their tantrums or their virtuosity, once you hear these fat ladies sing, there's not gonna be a dry eye in the house.

For the uninitiated, Me First and the Gimme Gimmes consist of Lagwagon frontman Joey Cape on the guitar, Shiflett brother (and Foo Fighter) Chris Shiflett on the other guitar, Lagwagon drummer and Fat Wreck utility superhero Dave Raun on the skins, and are rounded out by Fat Wreck-head-honcho/NOFX main-dude Fat Mike, and incomparable crooner Spike Slawson. Together, Me First and the Gimme Gimmes—an outfit that has always operated more like a beer-hall Pussycat Dolls than a regular mortal band—contain so much hot air, so much pomp, so much attitude, that it's a wonder that these guys can still manage to pull their five individual tour buses into the same parking lot, put their differences aside and belt out the ballads without clawing each other's eyes out. But they do, for the love of the fans, the music, and of course, the applause.

In the past, The Gimmes have tackled such disparate genres as Motown, country, show tunes and even Japanese pop (sung in real live Japanese!) but none of that enabled them to truly soar as high above the eagles as they desired, feeling the wind of other, lesser bands beneath their wings. So this time, the Fat (Wreck) Five decided to take on the un-take-on-able and hit us with cuts from the likes of Celine (gasp!) Christina (Sigh!) and Paula Abdul (oh no you di'int!) among others. And as Spike's baritone somehow manages to make Whitney Houston's (Dolly Parton-penned) Theme Song To The Bodyguard EVEN MORE EPIC, you will be moved to tears. You will find joy. You will shake in your very skin as the music of these divas gently takes you by the hand and shows you how to love again. AND! You'll buy tickets to see 'em on tour.

Because that's right folks! Nothing says 'diva' like coming to your town to bask in the torrential, gushing blasts of your love, and the Gimmes will be hitting the entire world in support of Are We Not Men? We Are Diva!, except maybe Mike, who's such a diva that he's got substitutes on hand! So grab those flowers off of your grandma's grave and head out now, to check out Me First and the Gimme Gimmes on wax and in your town, before these five outrageous harpies either kill each other or wind up as a Vegas destination act, bloated, high on pills and… uh, nevermind that last part. Just go see em, eh? It's a helluva time.
The Spits are an American punk rock band formed in Michigan in 1993. They later moved to and were based in Seattle for several years. Currently, the band has released five albums. The first four were all officially self-titled, but were unofficially titled 1, 2, 3, and 4, respectively. The albums were released by Nickel and Dime Records, Slovenly Recordings, Dirtnap Records, and Thriftstore Records respectively. In October 2011 they released their latest album, called V, on In the Red Records.
The band describes itself as "Punk for the People", and focuses on loud, noisy, and dirty punk rock. On stage, band members frequently appear in costumes (e.g. graduation robes, nun outfits, Ronald Reagan masks, or toilet paper "mummy" costumes), and focus on the dirty, low-budget sound and presentation of garage punk.
The Spits' "Bring Down" was featured in Al Partanen's skateboarding segment of the "Born Dead" skate video, as well as Darrel Mathe's section in the snowboarding video "love/HATE". "I H8 Pussies" was featured in Andy Forgash's segment in the snowboarding video, "Burning Bridges" as well. Their song, "Remote Control" appears in the Absinthe Films snowboarding video, "More".
Bass Drum of Death
When Bass Drum of Death started touring the rock club circuit outside Oxford, Mississippi, several years ago, there was a legitimate concern that the band's appeal might be limited to fans of the garage scene. With a seemingly never-ending series of tour dates, BDoD nonetheless transformed rooms full of normally too-cool-to-rock indie crowds into a mob of sweaty, stage-diving maniacs. Meanwhile, Madison Avenue, eager to cash in on hip cachet, took notice. Since the release of 2011's GB City, "Get Found" has been featured in FOX promos for the NASCAR season. Rockstar Games' megaseller Grand Theft Auto V helped to promote last year's self-titled album. Gamers terrorized the freeways of Los Santos, living out their cops-and-robbers fantasies, as "Crawling After You" blasted through their car stereo speakers. Bass Drum of Death are teetering on the brink of reaching a mainstream audience, and Rip This is their attempt to record an unapologetic rock album for people outside their normal fan base.
In the past, BDoD brainchild John Barrett wrote and recorded all the material and toured with a revolving lineup of hired guns on drums and guitar. This time around, drummer Len Clark joins Barrett as a full-time member and collaborator. The duo began discussing plans for a new record when touring with Unknown Mortal Orchestra in 2013. Barrett and Clark then convinced UMO bassist Jacob Portrait to take on the role of producer when the band booked a session in March at Prairie Sun Studios in Sonoma County, California. With a few rough demos, Barrett, Clark, and Portrait hunkered down for two weeks and cranked out the band's first proper studio album. Rip This retains BDoD's trademark sorry-for-partyin' swagger while scrapping the crackling hiss and lo-fi fuzz. The result is a record that still relies on an obliterating attack of heavy guitars, danceable hooks, and kinetic drumming, but will appeal as much to KISS fans as the music freaks and geeks who worship Nuggets. Both a challenge to music critics and a rock call-to-arms, the title says it all. You're not going to hear many records this year that rip like this, so shotgun a beer, tune in, and turn up.
The Pagans
Mention the name of the Pagans to any aficionado of the late 1970s American punk rock movement and you're likely to hear a contented sigh. They gigged and toured with the Ramones, Patti Smith, the Heartbreakers and the B-52's, as well as hanging tough with fellow Northeastern Ohio stalwarts like the Dead Boys, Devo and Pere Ubu.
They broke up and reformed throughout the 1980s with different lineups, and the critical acclaim that eluded them during their first incarnation began to grow. Now support acts like Soul Asylum and the Lemonheads accompanied the Pagans on short, infrequent tours.

By the dawn of the new century, the legendary status of the band had been cemented, and the Pagans headlined a command performance at the Rock and Roll Hall of Fame. Crypt records released the 70-track, two CD compilation Shit Street / Pink Album Plus, which charted in Rolling Stone and reintroduced the band to a new generation of listeners.
In 2011, Loren Molinare, guitarist of the Dogs and Little Caesar, invited Pagans frontman Mike Hudson to Los Angeles to appear in a video the Dogs were shooting of the Pagans classic "Her Name Was Jane." Life imitated art when Hudson met and fell in love with Evita Corby, his leading lady in the video, and left his life in New York to be with her.
As a muse, Corby had been influential with bands as diverse as the Stooges, the Babys and T Rex. Hudson wrote a novel, "Fame Whore," about their relationship and, collaborating with Molinare, a fistful of classic new Pagans tracks that were released by Ruin Discos as an LP entitled "Hollywood High."
Critical reception to the new record has been phenomenal. Iman Lababadi, who picked it as one of the 10 Best records of 2014, wrote, "Everything about Hollywood High is hard knock, beatnik, in your face word reaming modern but undated personal statement heart of punk. It sounds like nothing else out there, neither of the time nor apart from it, it is a major rocker's statement about redemption…"

And Joel Gausten, who also picked "Hollywood High" as one of the year's 10 Best, wrote, "Backed by a supergroup, Hudson and his raspy, world worn voice deliver an eight-song, 33 minute blast of energy that reminds listeners of what the real deal sounds like."
The overwhelming response to "Hollywood High" led Hudson and Molinare to reform the band as a touring unit, booking dates throughout Southern California with a European tour scheduled for the fall of 2015. The new material blends nicely with the classic Pagans his like "Not Now No Way," "Dead End America" and "What's This Shit Called Love?" the fans have come to expect. 
facebook.com/ThePagansOfficial
NOTS
NOTS are a 4 piece, all XX, "nuevo no wavo" band from Memphis, TN. Unpredictable guitars, celestial synths, and punctuated vocals swirl around the repetition of a powerful rhythm section to form a sound and a live show not easily classifiable but entirely addictive. Drummer Charlotte Watson and guitarist / frontwoman Natalie Hoffmann are the band's two constants throughout a handful of roster changes. NOTS' current lineup also includes Alexandra Eastburn on synth, an instrument she picked up to join NOTS and to record on their first full-length LP We Are Nots, and bassist Meredith Lones, another new Memphis musician, and the most recent addition to the band. NOTS' newest punk-noise-psych-collision 7", Virgin Mary, aggressively follows on the heels of their debut LP, foreshadowing an ever expanding experiment in direction of things to come for the band. Don't miss out.
soundcloud.com/gonerrecords/nots-dust-red-goner-records
Audacity 
When Fullerton, California's brash quartet Audacity first started churning out EPs and ripping up basements, it was hard to not get swept up in their adolescent exuberance. When a band can boast their ten-year anniversary before their members are legally old enough to rent a car, then one can only assume that their battle plan hinges largely on the rebellious energy and fearless charisma that comes with youth. Their last full-length, 2013's Butter Knife, confirmed that strategy. It was the perfect encapsulation of a band brimming over with pop hooks, caffeinated chops, and a rabid repurposing of rock's various primitive permutations. But young bands grow up quickly. Those deliciously sloppy riffs often get cleaned up. The petulant invincibility gets tempered down to cautious clichés. The rough edges get buffed down and glossed over. They stop exploring and opt to settle into the tried and true.

Fortunately, Audacity don't seem to be the least bit interested in slowing down or sprucing up. If anything, their fourth album Hyper Vessels hits harder and meaner than any of their previous releases. Yeah, maybe the gear involved in making the record sounds a little better, but every drum hit, every guitar strum, and every tuneful shout sounds like there's more heft behind it. Sharpened brains and sheer brawn compensate for whatever grit might have been compromised by a better recording budget and a little more musical acumen. "Our first two albums were made during our 'young band' phase," says guitarist/vocalist Kyle Gibson. "Being a band of teenagers was our identity. Butter Knife and Hyper Vessels were our process of finding who we are now as a band of young adults." While becoming an adult might mean having a more sophisticated worldview or more artistic discipline, it hasn't tempered Audacity's frenzied mishmash of garage rock, power pop, and proto-punk. "I usually reject the narrative of 'the album when they mature', Gibson continues. "I think all our albums—and all my favorite albums and works of art in general—have been a mixture of high-brow intellectual moments and silliness." 

From the opening bedlam of barnburner "Counting The Days", Audacity demonstrate that while their songwriting has become more nuanced, their delivery has gotten more savagely precise. With recording duties handled by longtime friend and tourmate Ty Segall, Audacity sound like they've finally found someone who can capture the frenetic drive of a song like "Hypo", the off-kilter hook of "Riot Train", the undeniable melodic appeal of "Fire", and the cowpunk influence of "Previous Cast". It can be tricky to juggle the bubblegum with the piss-and-vinegar, but it's a duality Audacity embraces, "I feel like we get portrayed a lot as a sunshine-y, carefree California band," Gibson says "But lots of our songs deal with melodramatic subject matter. The fact we've all lived in Fullerton pretty much the whole time we've been in the band has some effect on the music. Driving around town, there's a memory or a ghost on every street. People die or move away or get in trouble, or groups of friends drift apart and start hating each other and get in fights. It's not demoralizing; it's a part of life, but of course it affects the music." That frustration manifests itself on songs like "Overrated", where you can almost hear the spit and sweat hitting the microphone. But then they turn around and bask in the unapologetically gratuitous pop swagger of album closer "Lock On The Door". By the time Hyper Vessels comes to close, you're convinced that Audacity can get away with whatever they damn well please, it's going to have it's adrenaline-fueled charm regardless. 
The Booby Trapz
Rumor has it they are four deadly female operatives individually selected by a computer…code name: THEBOOBYTRAPZ! - brought together to thwart the efforts of mad men, buzz kills and the kill joys.
A DIY, Low-Fi, High-Energy, Garage-spionage (that's Garage and Espionage) kick to the groin, The Boobytrapz! Hail from Oakland and include former members of Bay Area Rock outfits The Meat Sluts and Thee Merry Widows.
Litta Bang Bang on vox, Nettie Kaboom! on guitar, Titi Krashnikov on drums and Bunny Bio Hazard on bass all get together to bring you fuzzed out, garage femme, frenzied action with nods to their own personal faves: Thee Headcoatees, Shannon & The Clams, The Bobbyteens, The Gories, the Pandoras, the 5,6,7,8's.
Prepare to shake and quake while the ladies rip through a set with titles like "Trigger Town", (an homage to sleaze merchants Russ Meyer), Sex Informer (a rip on all shit-talking exes who can't seem to leave your love life out of everyone else's business), Uptight Dynamite (a slow banger that builds to hit you over the head with thesame power of an unhinged lady who has been spurned) and Ow It Hurts, a hip shaker that will leave you humming and singing along "Don't make me hit you one more time" as a Dear John letter to every shitty thing a guy has ever had to say to a female and solid advice on how to kick that guy to the curb.
Don't let the rumors scare you: come meet The Boobytrapz! As one single explosive unit they are guaranteed to blow your mind.