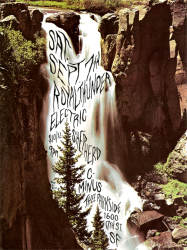 Royal Thunder, Electric Shepherd, C Minus
Time: 9:00pm Day: Saturday Ages: 21+ Ages Price: $10
This Event Has Ended
Royal Thunder is an Atlanta based, four-piece, progressive rock/metal, alternative band founded by lead guitarist Josh Weaver in 2006. After going through some lineup changes, Mlny Parsonz (bass/vocals) joined the group in 2007. Together, the two added drummer Lee Smith whom Weaver and Parsonz had played with in a previous band, and then last but not least Josh Coleman (rhythm guitar) was added to the fold. With a hard-hitting, hypnotic live show that is more of a ritual than a rock concert, the four piece has been capturing audiences with their passionate performances, sharing the stage with a range of artists including Scott Kelly of Neurosis, Wovenhand, Birds of Avalon, Kylesa, and many more. Keep this band on your radar in 2013 and beyond.
www.facebook.com/royalthundermusic
Electric Shepherd is San Francisco's new premiere psych-rock outfit, formed in the summer of 2009. The jam-based trio draws heavy influence from 60's psychedelia, freak folk/blues, indie pop, and heavy metal, while exploring themes based in travelogue wanderlust and dystopian moodiness. Herd yourself through vibrant landscapes, malicious utopias, and forgotten passions. Electric Shepherd's latest opus - 'The Imitation Garden' - was released in December 2012 to critical acclaim.
www.facebook.com/theelectricshepherd