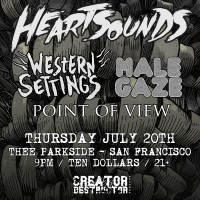 Heartsounds, Western Settings, Male Gaze, Point of View
Time: 9:00pm Day: Thursday Ages: 21+ Ages Price: $10
This Event Has Ended
Heartsounds ("Dualistic Nihilistic" Record Release)
The highly anticipated 4th album from the Bay Area's HEARTSOUNDS has arrived! "Dualistic Nihilist" is not your traditional full-length record, but instead a singular 20 minute long epic – an endeavor more unique and exploratory of uncharted musical territory, combined with the lyrical recreation of a true story revolving around severe mental illness and turmoil. Sonically, HEARTSOUNDS remains true to their roots of ripping fast, melodic punk rock, categorized more specifically by dynamic vocal harmonies, heavy-metal inspired metallic riffs, and tight-knit musicianship.
While honoring their past, the band succeeds with venturing into new regions of melody and expression that will surely surprise and please long-time fans of the band. "Dualistic Nihilist" is certainly a risk, but one that has resulted in the most emotionally and musically expansive record that the band has ever created – a 20 minute journey that does not repeat itself nor overstay it's welcome, but instead showcases a refreshing slice of razor-sharp melodic punk rock free of the confines of a traditional album structure.
creator-destructor.com/artists/heartsounds
Western Settings (San Diego)
laescalerarecords.bandcamp.com/album/ws
Male Gaze 
Weirdo-punk supergroup Male Gaze is back with nine new chunks of octave-pedal abuse and sultry croons with King Leer, their first proper long-player. This time around, the trio of Matt Jones (ex-Blasted Canyons), Mark Kaiser (ex-Mayyors), and Adam Cimino (ex-The Mall) have added former Blasted Canyons and Tiaras member Adam Finken on second guitar and resident Castle Face engineer Chris Woodhouse behind the boards to ramp up the skuzz-pop of last year's Gale Maze into brutal wall-of-sound territory.
On King Leer, the boys toy with their poppier side, dosing the songs with syrupy melodies and some newfound heartfelt introspection, but they're by no means going soft on us—these tracks, buried beneath mountains of fuzz and pounded out with Adderall-fueled fury, pack enough sonic punch to rattle your brain loose.  - Luca Cimarusti, Chicago Reader
Point of View (SF/San Jose)
Taking after the sounds of classic punk power trios, Point of View is an up-and-coming punk rock band out of San Jose, CA. With a punk base similar to old Green Day and NOFX, the group leans toward the Bay Area pop-punk sound and brings a hook-laden attitude to the genre.

After meeting in middle school, bassist Michael Bragg, drummer/vocalist John Wallace and guitarist/vocalist Curtis Wallace began to write punk tunes and even recorded a full-length album in the 7th grade. Another release followed shortly after, but it wasn't until after those outputs that the band began taking themselves seriously. 

The group independently released a full-length titled Sideshow Years in September 2011 that was later re-released by the band's current label, Hella Mad Records. The album was in the works for five years, with the band creating a DIY, makeshift home studio in a friend's garage and tracking the entire record on its own. Scott Goodrich mixed and mastered the album.

Considering the DIY nature of the recording of Sideshow Years, the record is surprisingly clean-sounding. While the rugged nature of the band's sound is prevalent, opener "The On-Going Two Faced Dilemma" provides a crystal-clear bass line to carry the track, bringing back memories of Rise Against and Green Day's early releases before Point of View kicks in some ska/reggae portions. Meanwhile, tracks like "The F.D.A. Steals Your Personality" show the band's earnest youth, bringing comparisons of peers Emily's Army. While horns and reggae influences are present throughout the whole album, the focus is certainly on the punk rock here, with those influences brought in only at times. 

Point Of View is now set to release a five-song EP titled Burner on March 29, 2012. Burner sees Point of View continuing its march in catchy old-school pop-punk, with tracks like "Home" providing sing-along parts for fans. The album will be made available via Hella Mad Records.