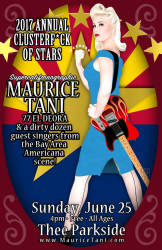 The Parkside Presents:
Maurice Tani (77 El Deora) & A Dirty Dozen Guest Singers
Original Famous Twang Sundays
2017 Annual Clusterf*ck of Stars
Time: 4:00pm Day: Sunday Doors: 11:00am Ages: All Ages / Bar with ID Price: FREE
This Event Has Ended
Original Famous Twang Sundays are FREE, All Ages and there is always a surprise special from the kitchen!
Maurice Tani (El 77 Deora) is a "rye-to-romantic, supercalifornigraphic" singer-songwriter specializing in a cinema-for-the-blind style. His band, Maurice Tani & 77 El Deora has been the source of untold, but exquisite suffering in the Bay Area for over 10 years.
w/ Special Guests Catherine Foreman (Moonshine Mabeline), Roy Loney, Brian & Sandra mello, Gayle Lynn, Aireene Espiritu, Mike Wolf, Jeanie & Chuck Poling, Ira Marlowe, Jessica Rose, Rick Elswit, Kathleen Salvia and more!