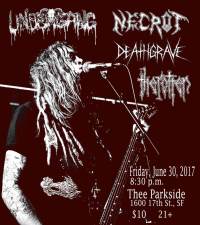 Undergang, Necrot, Deathgrave, The Rotten
Time: 9:00pm Day: Friday Ages: 21+ Ages Price: $10
This Event Has Ended
Undergang (Denmark)
Filthy, decaying Death metal insanity from the sewers of Kill-Town.
Necrot 
three-piece Death Metal/Punk band from Oakland, California
DeathgraVe
Medic, a crude and absurd form of hell has entered our realm and calls itself DeathgraVe... Pass the scalpel, we must stop this thing!
The Rotten is a Grind/Death/Hard core band from the Bay area. Consisting of Jeff Brown (El Jeffe) / Guitar-Vox (Cursed, They Are All Dead, Two(O)nine, Reduced To Ashes) Paul Cowan / Bass (Starch, Hate, Kaos), Curran Evans / Guitar-Vox (Starch, Blackgoat, Nuke Box Zero), Ryan Slater-Vox (Betray The Species, They Are All Dead, Surface), David Benson / Drums (Acephalix, Lawless).