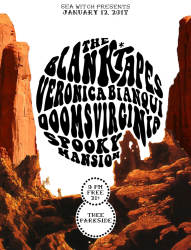 Sea Witch Presents:
The Blank Tapes, Veronica Bianqui, Dooms Virginia, Spooky Mansion
FREEE SHOWWW!!!
Time: 9:00pm Day: Thursday Ages: 21+ Ages Price: FREE
This Event Has Ended
Sea Witch Presents:
Blank Tapes is the moniker of Los Angeles based multi-instrumentalist, Matt Adams, who has produced over a dozen albums of 1960's inspired surf-pop, folk-rock & soul on Volcom, Burger Records, Antenna Farm, White Noise, and others. Their latest being the psychedelic stoner nugget collection "Geodesic Dome Piece" on Royal Oakie. Along with his band mates, The Blank Tapes have toured throughout America, Brazil, Europe, & Japan. Matt is also the artist behind his band's posters & album covers. New albums and tours coming soon…
Veronica Bianqui
"There are two types of intoxication: There's that dark place, almost drunk-like, when your eyes focus on nothing but that void in between here and oblivion—that nowhere land where drunk minds meet just to be alone. And then there's the intoxication of Love that makes everything feel connected, and fills a person up to such great extremes, that sometimes you just have to let it out whether by crying, screaming, or singing. My songs come out of the conflict between that lonely intoxication and that ecstatic intoxication."
soundcloud.com/Veronica-Bianqui
Dooms Virginia (formerly Annie Girl & The Flight) was born in dreams. For years, band leader Annie Lipetz had been fascinated with the story of Roy Sullivan, who had been struck by lightning more in his lifetime than any other human being. One night, Roy came to Annie in a dream and told her he had discovered the source of lightning's attraction to him was in fact a strange and powerful energy. He put this power into a totem and offered it to Annie, and a new voice emerged and songs came pouring out. In exchange, she promised to pay tribute to him by changing the name of her band to the town where he laid to rest. 
The band (formerly known as Annie Girl and The Flight) has toured nationally with acts such as punk legends Against Me, but the music of Dooms Virginia is more complex, more psychedelic, more emotionally demanding. Their songs bring characters from this magical dream world to life. Combining neo-punk and neo-psychedelic with a garage feel, Dooms Virginia challenges the notion of genre and delivers high-energy performances that will strike you like lightning.
Spooky Mansion
Unparalleled music made for banging and hanging with chicks and dudes.