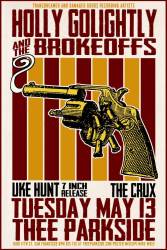 Holly Golightly and the Brokeoffs, Uke-Hunt (7" Release), The Crux
Time: 8:00pm Day: Tuesday Ages: 21+ Ages Price: $15
This Event Has Ended
Holly Golightly and the Brokeoffs - Holly Golightly and Lawyer Dave first met in the basement of a China Town smuggler's den. Holly had need for an upright bass player to do a small U.S. tour and The Lawyer was the only one she could find. After a half hour run-through, they were off the next day. You might could say that this was the beginning of their collaboration as the idea of doing records together was first conceived on those long drives in the American West. After nearly ten years, seven-hundred-thousand miles, countless shows, records and and other misadventures, the time finally came.
www.facebook.com/hollygolightlyandthebrokeoffs
Uke-Hunt are Spike Slawson (Me First & the Gimme Gimmes, Swingin' Utters) on ukulele and vocals, Randy Burk (Small-Time Napoleons, Filthy Thieving Bastards) on various percussion instruments and vocals, and Jamin Barton (Kelley Stoltz, The Titan Ups, Ramshackle Romeos, Bone Cootes and the Living Wrecks) on saxophone, melodica, harmonica and various other janky instruments and Joe Reposo (Lagwagon, King City, The Real McKenzies) on upright bass. Uke Hunt play outsider pop tunes, country standards, '80s new wave hits, and tender love ballads all totally unplugged, yet fully electric. More mobile than an Airstream, Uke Hunt can be wherever they're needed before you can say ukulele!
The Crux