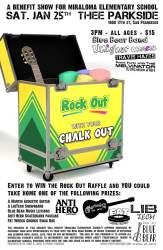 Dino & Luigi and Prime Touring Present:
The Melvinator (Eric Melvin of NOFX) Dance Party, Travis Hayes, Uni And Her Ukelele, The Blue Bear Band
2nd Annual Rock Out With Your Chalk Out: Miraloma Elementary School Benefit
Afternoon Show
Time: 3:30pm Day: Saturday Doors: 3:00pm Ages: All Ages / Bar with ID Price: $15 - $30
This Event Has Ended
2nd Annual ROCK OUT WITH YOUR CHALK OUT: Miraloma Elementary School Benefit (Afternoon Show)
The proceeds of this concert will benefit Miraloma Elementary School's aspiring musicians by providing them with opportunities to team up with the Blue Bear School of Music teachers in exploring and learning rock, blues, jazz, folk or pop instruments. The goal of this program is to afford all interested students access to instruments and instruction which aren't traditionally taught in elementary schools, providing them with the time and space to rock to their hearts' content.
The Melvinator (aka Eric Melvin of NOFX) will be throwing a dance party for the kids featuring his signature "moshup" DJ set. Old school punk classics and old school rap beats get mashed up and thrashed up in ways that will have you dancing with your fists in the air. 
www.facebook.com/pages/The-Melvinator/411379508955959
Travis Hayes may not be a household name just yet, but his honest and heartfelt music charms audiences and listeners near and far. Based out of San Francisco, the singer/songwriter captures a unique perspective on heartbreak and coming of age - all while sipping a glass of whiskey.
Uni And Her Ukelele - Uni is Heather Marie Ellison. Uni and her Ukelele began it's life in 2004 as an outlet for an already accomplished singer to self publish and perform original work independently. Since that time Uni has released three full albums, numerous E.P's, collaborations and a covers album ranging from lo -fi indie pop to melodic strings to rock. Uni's sound has been described as eclectic, infectious pop and not your usual Ukulele fare. Recipient of the SF Weekly Music Award, Uni has toured all over the USA and Canada, Europe, Australia and New Zealand and has been the subject of celebrated festival Documentary  "The Mighty Uke". Often described as the love child of Rainbow Brite and Mr. T, Uni is possessed of the uncanny ability to stare wanly out the window and simultaneously kick you in the balls…. Ding!
The Blue Bear School Of Music
** TWO SHOW PASS available for $30!! Get them while they last.