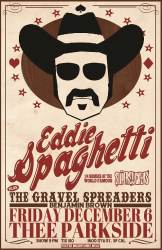 Eddie Spaghetti, The Gravel Spreaders, Benjamin Brown
Time: 9:00pm Day: Friday Ages: 21+ Ages Price: $10
This Event Has Ended
Eddie Spaghetti grew up in Tucson, Arizona trying desperately to ignore the country music that floated all around him. Seems like every pick-up truck and storefront speaker was cranking out the syrupy wails of some heartbroken hick and he just wasn't having it. So, as a kid, he turned to Heavy Metal, then Punk Rock, to block out the noise and that's how his band, The Supersuckers, was born. It didn't take too long, however, for the country music that he tried so hard to avoid in his youth to start surfacing in the music Eddie was making as a young man. The foray back to the country began in 1993 with the Supersuckers side project, The Junkyard Dogs and the rare, hard to find and out of print recording, "Good Livin' Platter" (Sympathy For The Record Industry). It wasn't county per-se, but it was close and the seed was planted.
www.facebook.com/pages/Eddie-Spaghetti/141205945901709
The Gravel Spreaders' new album "Metal Hee Haw" is what happens when a metal-head hopped up on moonshine, spite and Hank Williams III uses sweet talk and coercion to coax three musicians into wearing coveralls and playing twang instrumentals of hair-metal covers. Thus, The Gravel Spreaders was born. Singing lead and slapping the hell out of his trusty Bandit, Bud Hole leads a motley crew consisting of mandolin masher and jaw harpist, Dr. Buck Knife, dobro-slider and gitter-picker, Uncle Mungar, and banjoleer and high-pitched harmonizer, Buzzy "secret sauce" Do-Well through a debut album consisting of 13 songs of lust, remorse, Satan, beer, and the trailer-park hits of yesteryear, blue-grass style. The result: the birth of Gravel-Billy. With a set list that covers Johnny Cash, Ozzy, Rage Against the Machine and everything in between, the Spreaders remind us that nothing is sacred.
www.facebook.com/pages/The-Gravel-Spreaders/203373463036365
Benjamin Brown is a singer/songwriter living in the San Francisco Bay Area. He is a self-taught guitarist who is mainly inspired by the musicians from the aspiring immersion of blues artists in the early part of the 20th Century.
www.facebook.com/13enjamin13rown