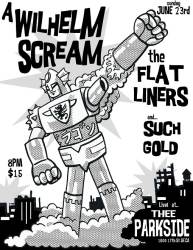 A Wilhelm Scream, The Flatliners, Such Gold
Time: 8:00pm Day: Sunday Ages: All Ages / Bar with ID Price: $15
This Event Has Ended
A Wilhelm Scream - Post-hardcore quintet A Wilhelm Scream formed in New Bedford, MA, in the mid-'90s. Playing gritty punk rock in the same vein as Hot Water Music and Propagandhi, the group has since toured all over the country with the likes of Rise Against, Pennywise, the Lawrence Arms, Less Than Jake, and Strung Out. Originally called Smackin' Isaiah, the group released The Way to a Girl's Heart Is Through Her Boyfriend's Stomach on All About Records in 2001 and The Champagne of Bands...We Know Sexy EP on Fork in Hand in 2002. They changed their name to A Wilhelm Scream in December 2002. The Benefits of Thinking Out Loud, originally issued by Tank Records in 2002, was re-released by Jump Start two years later. Finally settling down with one label, 2004 saw their debut Nitro release, Mute Print, surface. The guys -- guitarist/vocalist Trevor Reilly, vocalist Nuno Pereira, bassist/vocalist Jonathan Teves, drummer Nicholas Pasquale Angelini, and guitarist Chris Levesque -- then played shows with Near Miss and Much the Same before hitting the studio in March 2005. Ruiner, produced by Bill Stevenson and Jason Livermore, was issued that August. Following its recording, Curtiss Lopez joined in on bass, but his stay was a short one, as he abruptly left the band while on tour in February 2006. A temporary bassist (Nick Diener of Michigan's the Swellers) was quickly found to finish out dates before the guys later began their search for a permanent replacement.
www.facebook.com/awilhelmscream
The Flatliners were making music together before they were old enough to drive a car. Before they were old enough to buy alcohol they had already released two albums: 2005's Destroy to Create (Stomp Records) and their 2007 Fat Wreck debut The Great Awake. Since then this Toronto-based four piece have toured the world enough to make even the most road-savvy bands homesick.
Such Gold is a melodic hardcore/punk band from Rochester, New York.