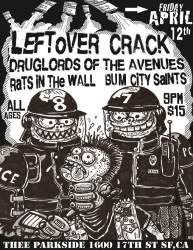 LEFTOVER CRACK, DRUGLORDS OF THE AVENUES, RATS IN THE WALL, BUM CITY SAINTS
Time: 9:00pm Day: Friday Ages: All Ages / Bar with ID Price: $15
This Event Has Ended
Leftover Crack has proven to be one of the most consistently controversial acts to spring from the 3rd wave ska-revival scene. The band plays a mixture of ska, punk, crust and metal and currently sports a lineup of lead vocalist Scott "Stza" Sturgeon-Ercin, Ezra Kire, F-Minus principle Brad Logan and Alec Baille. The band has been host to a revolving door of drummers.

Leftover Crack carries on many of the thematic and musical threads began with 90s ska/punk act Choking Victim (in which many of the same personnel played). Like Chocking Victim and the other host of "Crack Rock Steady" bands Leftover Crack reflects staunchly leftist politics and a street level, often antagonistic, view of authority. Members of the band have at time occupied, and often play shows at, an abandoned New York City tenement dubbed "C-Squat" that has become a reoccurring theme in the band's lyrics.

Fat Wreck Chords, Bankshot, Alternative Tentacles and Hellcat have all released albums from the band, but not without controversy. Infamously the act intended to title their 2001 full length Shoot the Kids at School, a decision that lead to conflicts with the label and pressing plant, particularly due to the then-recent Columbine school shootings. However for all the attention the band garners they have attacked many relevant issues that others often avoid, particularly homophobia in the punk scene.
www.facebook.com/pages/Leftover-Crack/190096094352619
Druglords of the Avenues - Formed in 2004 in Oakland, California. Druglords is a side project for some and a side, side project for others. Everyone in the band is in other bands like Swingin' Utters, Filthy Thieving Bastards, and Moonshine. Their debut record, "Sing Songs" is out now on Red Scare Records. 
www.facebook.com/pages/Druglords-Of-The-Avenues/129879853710122
www.facebook.com/pages/Rats-in-the-Wall/271833449511318
Bum City Saints was conceived in the fall of 2007, the offspring of boredom and a burning desire to play music. The band spent it's infant year practicing and song writing in living rooms and backyards before playing it's first show in November of 2008 at Burnt Ramen with local hero's Eskapo and La Plebe. Since then Bum City Saints has continued to spread it's fast paced punk rock throughout the Bay area playing alongside bands such as M.D.C, Angry Samoans, Krum Bums T.S.O.L, Whiskey Rebels, Citizen Fish, Left Alone, Defiance (LA), Monster Squad and Verbal Abuse.
www.facebook.com/bumcitysaints