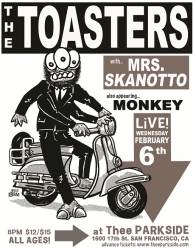 THE TOASTERS, MRS. SKANNOTTO, MONKEY
Time: 8:00pm Day: Wednesday Ages: All Ages / Bar with ID Price: $12
This Event Has Ended
The Toasters have been touring across the globe incessantly for the last 33 years. Jakarta, Bogota, Irkutsk, Istanbul, Shanghai - you name it, they've been there and done it. Since breaking out in 1981 on the rough and tumble East Side of NYC, the   band's name has become synonymous with DIY touring and a fierce indie ethic. Here we are in 2013 and the calendar is already packed with two North American tours, South America, Europe, South East Asia, Russia and points east. In April the band will feature at the London International Ska Festival.  The milestone of 5000 live shows is long out of sight in the rear view mirror. To celebrate the new year the Toasters are releasing THE HOUSE OF SOUL vinyl 45rpm on their own Megalith records label. A series of singles will presage the LIFE IS A PARTY album. There will also be releases on London's Cherry Red Records of a special anniversary compilation as well as a re-edit of the classic 1987 POOL SHARK album. 2013 will also see a vinyl release of their breakthrough 1991 NEW YORK FEVER (produced by the great Joe Jackson) in collaboration with Jump Up Records out of Chicago. The Toasters have been hailed as "ska pioneers" (Billboard magazine), the "sound of NYC" (New York Times) and as a core artist at CBGB. Widely acclaimed as being the progenitors of Third Wave Ska they are a true American 2-Tone band.
Mrs. Skannotto is a ska band based out of Rochester, NY. A long-standing group, they have been on the ska scene since 1998. The band draws influences from many generes including traditional and punk ska, rock, reggae, dub, etc. The band has made appearances all across the Northeast. Their style appeals to crowds of all ages and backgrounds, from bars to small indie shows to festivals. The band has shared the stage with such notable acts as Less Than Jake, Big D and the Kids Table, Reel Big Fish, Mad Caddies, The Toasters, The Pietasters, The Slackers, Mustard Plug, Sonic Boom Six, The Aggrolites, Bim Skala Bim, The Know How, Phenomenauts, Flatfoot 56, A Wilhelm Scream, The Allstonians, The Tossers and the RX Bandits.
Monkey is a 6 piece high-energy organ driven, Ska/Reggae group from the SF Bay Area. Their intense live shows and rock-steady rhythms not only get the crowds dancing, it has won them several awards, like the prestigious California Music Award!