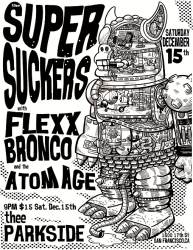 SUPERSUCKERS, FLEXX BRONCO, THE ATOM AGE
Time: 9:00pm Day: Saturday Ages: 21+ Ages Price: $15
This Event Has Ended
Supersuckers - Our story is almost impossible to believe. This band is literally a human cartoon. We all grew up among the dead-ends and cactus needles of Tucson, Arizona and have known each other since grade school. We graduated from the same high school together at the same time (a school immortalized in our song "Santa Rita High") and we chose to play in a band together because we liked to hang out together, not because we were great musicians or anything. I truly believe that a band is defined by their limitations, that what they can't (or won't) do is just as important as what they can do. I guess that, in this era of pre-fabricated, put-together-to-have-a-hit bands, we're kind of an aberration and I gotta tell ya that that makes us smile a little every day. We formed the band in 1988 and we were initially a five piece called The Black Supersuckers ( a name found in some quality "adult literature" we had laying around in our impeccably clean band house!), with me on bass, Dan "Thunder" Bolton and Rontrose Heathman on guitars, Dancing Eagle on drums and a lead singer by the name of Eric Martin. After firmly proving ourselves to be the best band in town we decided it was time to get out of Tucson and try our luck somewhere else. So we tossed a coin with heads as New Orleans and tails as Seattle. Tails it was and in May of '89 we packed up and went north. We had no idea that Seattle was about to become "Rock Mecca USA", we just wanted to go somewhere where we could wear our leather jackets a little more often. It was exciting and encouraging to see all of the great bands there, doing their own thing and making some kick-ass, aggressive rock-n-roll that we could relate to, so we started recording immediately. After some classic "creative differences" with our lead singer, we decided to try it as a four piece with yours truly as the singer (I was the only one who knew all the words) and The Supersuckers, as you may or may not know them today, were born.
www.facebook.com/pages/The-Supersuckers/135339756866
Flexx Bronco - From San Francisco, California. Flexx Bronco is the real deal, everything they do is derived from within. Their writing style, based on collective experiences, influences and lifestyle, exposes many truths found while touring and living it over the past half decade. Flexx Bronco is not just a "Rock N' Roll" band. While that is at the heart of what they do, more aptly they embody the essence of it.
The Atom Age
www.facebook.com/theatomage