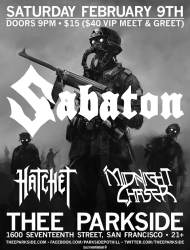 SABATON, HATCHET, MIDNIGHT CHASER
Time: 9:00pm Day: Saturday Ages: 21+ Ages Price: $15 - $40
This Event Has Ended
Swedish band Sabaton have been a major force in the power metal field since the mid-'00s, but had to battle through significant difficulties to get there, which may explain their eventual creative obsession with everything war-related. Originally founded in 1999 and comprised of Joakim Brodén (vocals and keyboards), Rickard Sundén (guitar), Oskar Montelius (guitar), Daniel Myhr (keyboards, beginning in 2006), Pär Sundström (bass), and Richard Larsson (drums), the enterprising group quickly produced two demo tapes that were later released in a limited edition as Fist for Fight in 2002. But after inking a deal with Italian label Underground Symphony, Sabaton saw their first would-be official album, Metalizer, inexplicably held out of the marketplace for a full two years (it, too, would belatedly reach the public in 2007). Tired of waiting, the members of Sabaton (now including new drummer Daniel Mullback), once again took matters into their own hands, and financed the recording of another album, Primo Victoria, which was officially released in 2005 by the Black Lodge label. It also opened the floodgates for a slew of popular singles and battle metal LPs to follow, including 2006's Attero Dominatus, 2008's The Art of War, and 2010's Coat of Arms, all of them bursting at the seams with historic and mythical chronicles of battle set to anthemic power metal.
Hatchet IS PURE UNCOMPROMISING BAY AREA THRASH METAL! WITH A CATCHY MELODIC TWIST TO THEIR SOUND THEY HAVE STOOD ABOVE TO MAKE A MARK. THEIR 2008 DEBUT "AWAITING EVIL" RELEASED ON METAL BLADE RECORDS WAS WELL RECEIVED AND A GREAT BEGINNING FOR HATCHET.
www.facebook.com/hatchetofficial
Midnight Chaser - Forged in the blast furnaces of Pittsburgh and tempered in the waters of the San Francisco Bay comes a new force in the art of badass; enter MIDNIGHT CHASER! Influenced by the gods of 70's and 80's hard rock and heavy metal, MIDNIGHT CHASER was originally conceived of by guitarist Stephen Lauck and bassist "Texas" Josh Hunt while both still living in Pittsburgh, the Rust Belt of Pennsylvania. However it wasn't until both rockers found themselves relocated to the fog cloaked Bay Area of California that MIDNIGHT CHASER began to take shape.