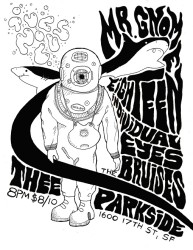 MR. GNOME, EIGHTEEN INDIVIDUAL EYES, THE BRUISES
November 6, 2012 8:00 pm
- 1:45 am
Add to Cal
//=$other_events?>
Time: 8:00pm Day: Tuesday Ages: 21+ Ages Price: $8
This Event Has Ended
Mr. Gnome, hailing from Cleveland, offer an amalgam of post-punk meets indie-arty-psych-prog-rock. The duo recently released their new album Madness in Miniature. Like the previous release, Heave Yer Skeleton (2009), the new record was recorded at Josh Homme's (Queens of the Stone Age/Them Crooked Vultures) Pink Duck Studios in Los Angeles.
Eighteen Individual Eyes (Seattle) play darkly sensual musique noir, their first album Unnovae Nights an intoxicating, trembling journey through rock's primal subconscious. It's a narcotic dazzle, a beautiful alternate world in shadows, addictive relations at its beating heart. The songs are as lyrically meaningful and layered as the music created for them. The band is part of a new tribe of groups that can't be easily categorized, but are finding fans who want to be transfixed by music that delivers them someplace else.
www.eighteenindividualeyes.com
The Bruises - Sometimes flirtatiously sweet, other times seductively brooding, THE BRUISES are a four-piece rock band from San Francisco that meld classic rock bravado and indelible power pop hooks with unapologetic ease, by way of dueling female harmonies and a serrated double guitar attack that have become the band's signature.