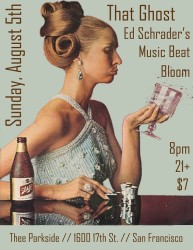 THAT GHOST, ED SCHRADER'S MUSIC BEAT, BLOOM
August 5, 2012 8:00 pm
- 1:45 am
Add to Cal
//=$other_events?>
Time: 8:00pm Day: Sunday Ages: 21+ Ages Price: $7
This Event Has Ended
That Ghost - Imagine a room decorated with only the essentials: five guitars (two electric, three acoustic), various unidentified instruments, and a recording box, surrounded by a maze of tangled cords. Welcome to the studio of That Ghost, eighteen-year-old Ryan Schmale of Sonoma County, California. The lo-fi quality of his songs is intriguing. The arrangements are distorted, unexpected. Listen to a few songs and one might think it is the sound of three or four musicians. This is not the case. What the listener hears is one extremely passionate person who has something to say. By the age of seventeen, That Ghost had already self-released three full-length CDs.
www.facebook.com/pages/That-Ghost/40275656359
Ed Schrader's Music Beat - Before Ed Schrader's Music Beat, the project was just Ed Schrader (der!) putting wiggy sounds to pounding drums. A 10" from four years back documents this era, though a tape on Fan Death was issued in December 2011.  In 2009 Devlin Rice (also of Nuclear Power Pants) joined Ed for a one-off show. This mind meld took the left field paranoid pop that Ed was composing and added a powerful low end power chug from the jug of eternal rock and raised the whole project a more visceral live experience. Since then the band has done considerable touring with acts such as Future Islands, Lightning Bolt, Dan Deacon and really whipped up some enthusiasm based on their minimal and real rock vision.  This is not rock designed for centerfolds of industry magazines as much as music to burn you.
www.facebook.com/pages/Ed-Schraders-Music-Beat/209173182433473