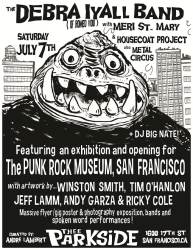 Punk Rock Museum Benefit
THE DEBORA IYALL BAND (ROMEO VOID), METAL CIRCUS (A Tribute to Husker Du), MERI ST. MARY AND HOUSECOAT PROJECT, DJ BIG NATE
Art Show: Winston Smith, Vincent Anton, Tim O'Hanlon, Jeff Lamm, Andy Garza, Ricky Cole and more...
Time: 9:00pm Day: Saturday Ages: 21+ Ages Price: $15
This Event Has Ended
THE PUNK ROCK MUSEUM has been established to further preserve the punk rock genre in the form of a museum. This enormous endeavor has been spearheaded by Taquila Mockingbird. The museum, in its Los Angeles location,1640 N. Spring St. near Chinatown, has been greatly received thus far. The doors have been open for barely four months now, and it has brought a new vitality to the scene and an interest in preserving "our punk culture" through original art, flyer art, photography, and of course music that encompasses everything in the punk genre. The museum was conceived in 1985 and has been presented to the Smithsonian, they have expressed interest and want to see how it grows, for a possible permanent collection space! Taquila was at a funeral for one of our fallen comrades and at this sad time, when we all came together in solidarity, she felt moved to share with art and music not only a reminiscence of this person, but what a great feeling of community we enjoyed at that moment. Taquila felt that she should make that feeling something we could share on a more regular basis and thus created The Punk Rock Museum to "celebrate our unique past", and she is therefore asking you now to support our shows and events.  We are bringing the punk rock museum to you, in San Francisco, on Saturday, July 7th with a mix of new works and pieces from the permanent museum collection. Please join us for a great evening of art and music to benefit the museum and help commemorate a very important period in modern art and culture.
Romeo Void - Thanks to the reductive onslaught of the "'80s party weekend" radio format and the numbing similarity of most '80s hits compilations, hearing the name Romeo Void instantly conjures up the phrase "I might like you better if we slept together" in most minds. The unforgettable chorus of their best-known song, 1981's "Never Say Never," the phrase on its own makes the song sound like some kind of shock-value novelty, and indeed, that's probably how many people remember it. Yet a careful listen to the verses, with their intimations of incest, murder, homelessness, and other dark subjects, makes plain that singer/lyricist Debora Iyall has more on her mind than simple salaciousness. The combination of Iyall's powerful vocals and searing imagery with the band's muscular blend of Joy Division's atmospherics and the Gang of Four's rattling momentum, with Benjamin Bossi's splattering free jazz saxophone coloring everything, made Romeo Void one of the strongest of the American post-punk bands.
Metal Circus (A Tribute to Husker Du) - www.metalcircus.com
Meri St. Mary and Housecoat Project - www.meristmary.com
Artists: Tim O'Hanlon, Jeffrey Lamm, Winston Smith, Andy Garza, Ricky Cole, Gary Indiana, Lily Chow, Snake Lady Rose, Kris X, Vincent Anton, The Units, James  Stark, Johnny Bonnell, and more....