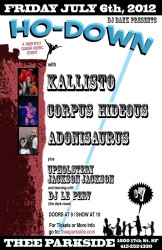 DJ Dank Presents: HO-DOWN!!
KALLISTO, CORPUS HIDEOUS, UPHOLSTERY JACKSON JACKSON, ADONISAURS, DJ LE PERV
July 6, 2012 9:00 pm
- 1:45 am
Add to Cal
//=$other_events?>
Time: 9:00pm Day: Friday Ages: 21+ Ages Price: $7
This Event Has Ended
Ho-Down, a monthly queer live music night, cruises the electro highway with Adonisaurus, Corpus Hideous and Kallisto on Friday, July 6 at Thee Parkside.  $7 cover.
Doors will open at 9pm with a dark synth dance party by DJ Le Perv (The Dark Room) 
This month is a multi-tiered journey in the newest and best in electronic music with attitude.
Kallisto is an underground, singer, songwriter who has made quite a splash on San Francisco stages for her amazing stage persona and tasty, truthful lyrics wrapped in the hottest beats.  She got her start on the streets of Japan as a child performing for donations.  "I perform for those who can't express their true emotions and are deprived from doing so. Our goal is to get everyone to drop their guards and collaborate with each other for a big bang.  It's time to rock outside the box everyone."
Corpus Hideous is the newest music project of singing powerhouse Flynn Witmeyer of Sex Industry.  "Corpus Hideous is a new music project of dark-electro synthrock exploring themes of body dysmorphia, heavy kink, romantic idealism, spiritual dislocation and physical trauma."
Adonisaurus is the electronic music project of Derek Schmidt and Danyol Leon.  "Adonisaurus has been twiddling knobs and making beats in the name of sexy, electronic primitivism.  Building atop the structure of basic, infectious drum beats, the duo dresses starkness up in the energy of their lyrics. Adonisaurus will fossilize all preconceived notions of electronica."
Upholstery Jackson Jackson will amaze and astound with his hilarious and bizarre antics mixing cabaret, performance art and Broadway charm into an intoxicating cocktail of music and mayhem.  He is creating a special show specifically for Ho-Down.
Art show by Xavier Gerbeaux.
Every month DJ Dank, producer of Ho-Down, Show/Off, Bloke and Toolbox brings you the most interesting live performers emerging from underground clubs and concert stages.  
So come on down to the Ho-Down for an amazing night of electronic music and madness!