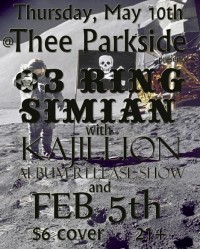 3 RING SIMIAN, KAJILLION (Record Release), FEBRUARY 5TH (Members of Domeshots)
May 10, 2012 9:00 pm
- 1:45 am
Add to Cal
//=$other_events?>
Time: 9:00pm Day: Thursday Ages: 21+ Ages Price: $6
This Event Has Ended
3 Ring Simian is a psychedelic rock, funk, jam band based out of San Francisco, California. Their unmatched particular style of music binds together influences of funk, jazz, blues and rock with a hint of poo flinging circus monkey all wrapped into one. Every face-melting performance by 3 Ring Simian proves whimsically unpredictable with their unique instruments of choice. The combined 3 distinctive musical organisms (keys, bass, drums) contrive a certain musical magic that revolutionizes a performance into an experience.
Kajillion is a powerful instrumental trio from Oakland, CA with roots in rock, jazz, and metal. Kajillion combines densely layered 8-string guitar tones and booming, melodic bass-lines with complex poly-rhythms. The band's eclectic musical influences and talents are showcased best in a live setting, where they are free to improvise and interact with a crowd. A combination of the devastating guitar tones and rhythms of Meshuggah, big bass lines of Primus, and jazzy yet powerful drum grooves gives this trio a unique flavor, showcasing the accomplished musicianship of each member and defying the limits of genre-definition.
February 5th was born from the music created by the members of bay area rock quartet, Domeshots. Their debut album Let Me Show You What it Means to be Reborn offers a fresh take on rock music, capturing the evolution of the band after 16 years together. The dynamic insightful vocals, intriguing melodies and deep rhythms, combined with their unique outlook on life and the here-after enrapture the listener and take them on a journey they won't soon forget.